Symphonic orchestra "CONCORD ORCHESTRA" unites professional musicians from Russia and Europe on a mission to take a brand new look at music and make symphonic concerts exciting and memorable.The conductor and the artistic director of CONCORD ORCHESTRA is Fabio Pirola, an Italian who has always dreamt to work in Russia. The orchestra is now seven years old. In 2010, Fabio had an idea to gather a team of the most flamboyant musicians in Saint-Petersburg. Since then the orchestra has produced three original programs (SYMPHONIC ROCK-HITS, SNOW-WHITE BALL by Johann STRAUSS, TANGO of PASSION by Astor PIAZZOLLA ); has given over 300 concerts in the remarkable venues in Russia, including 9 concerts in Moscow on the stage of the Big Kremlin Palace, and has collaborated with the musical stars from all over the world. Our main value is the quality of the performance that we want to give to the audience, and judging from their feedback we are on the right track!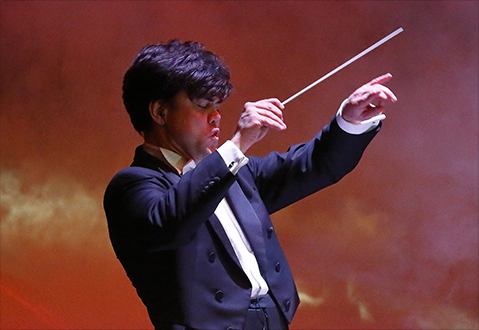 The core of the orchestra, our conductor Fabio Pirola was born in one of the most important Italian artist family. He has studied at the "Gaetano Donizetti" State Conservatory (Bergamo, Italy), at the Juilliard School (New York, USA) and at the Summer Akademie Universitat Mozarteum (Salzburg, Austria). As a conductor, Fabio collaborated with the Ensign Symphony&Chorus (USA), Philharmonic Orchestra of the State Theatre of Cottbus (Germany), Westsachsisches Symphonieorchester (Germany), Orchestra Sinfonica di Lecco, Orchestra Nazionale Artes, Orchestra Milano Classica and Orchestra Filarmonica "Ettore Pozzoli" (Italy), and many others. Fabio always fills the concerts with distinguished Italian temperament and emotionality. As he once said, "The musicians of CONCORD ORCHESTRA are always happy when the audience start singing along familiar melodies. This is the reaction we wish to receive from our audience."
CONCORD ORCHESTRA is truly universal. We wish to perform all kinds of music – from classic to folk, from the masterpieces of cinema soundtracks to legendary rock music. The most important for us is to play the music we love and enjoy, which the audience can feel at our concerts!
The repertoire of CONCORD ORCHESTRA counts over 50 great rock-hits written by the legendary musicians: Metallica, Linkin Park, Rammstein, Scorpions, The Beatles, Led Zeppelin, Nirvana , Aerosmith, Depeche Mode, Queen, Bon Jovi, Muse, AC/DC, Guns 'N Roses…
CONCORD ORCHESTRA sets the perfect tone right away and wow the audience with the rich sound of violins, sparkling voices of trombones, vibrant cellos, powerful contrabass, electric guitar solos and rock'n'roll energy of drums! You can feel the excitement and the thrill of eternal rock music!
In 2016, CONCORD ORCHESTRA was on tour in 34 cities across Russia and performed this show for over 40 000 people. This year from October to December, we are touring already in 50 cities. We make sure that these concerts will be truly exciting and memorable for you. We are bringing fantastic light, unique video installations, costumes, choreography, and what is especially extraordinary for a symphonic orchestra – we are performing compositions by heart. read more…
SNOW-WHITE BALL by Johann STRAUSS
Classical music is our core, our first love. And each December we continue a tradition to hold a carnival ball. An unforgettable event where we play the famous waltzes by Johann Strauss in the company of the best opera singers and gorgeous dancing couples. The dress code for this elegant ball is white. We encourage everyone to be dressed in white, while the venue and the stage are also decorated with thousands of white flowers. This program includes the most well-known and beloved compositions of Johann Strauss – waltzes "An der schönen blauen Donau", "Künstlerleben", "Geschichten aus dem Wienerwald", "Wiener Blut", "Kaiser-walzer", polkas "Unter Donner und Blitz", "Auf der Jagd", "Bluette Polka-franꞔaise", and many others. The famous "Radetzky March" closes the program of the concert. During its performance the audience traditionally clap their hands, as the conductor Fabio PIROLA faces the spectators and conducts the clapping. Our snow-white ball has become a beautiful tradition to celebrate the New Year and Christmas Holidays. We are inviting you to dive into the cordial reveries of waltz and spend a magical evening with us! read more…
TANGO of PASSION by Astor PIAZZOLLA
Our annual traditional show is dedicated to LOVE and PASSION. And how could it be otherwise when we are playing TANGO?
With the bandoneon giving its distinctive sound, CONCORD ORCHESTRA and the world stars of tango create magic on stage. The director of the show Silvio GRAND, a well-known dancer and choreographer (Argentina), has produced a dynamic, sensual spectacle with the best dancing couples. Magnificent music played by symphonic orchestra and dancing filled with emotions will take your breath away. The winners of Tango Dance World Championship and the runner-ups of Campeonato Mundial de Baile de Tango (category Tango Escenario, Argentina) take part in the show. Their dance is accompanied by the "Golden voice of tango" Cesar Camargo and Martin Alvarado who is considered to be Argentina's finest living tango singer. Among the legendary compositions by Astor Piazzolla played in the show are "Oblivion", "Adios Nonino", "Libertango", fragments from "Four Seasons in Buenos Aires", and many others. Traditionally we perform "TANGO of PASSION by Astor PIAZZOLLA" every February in order to celebrate St. Valentine's Day. Join us for a truly unforgettable experience! read more…
CONCERTS WITH THE STARS
Our other passion is collaboration with the legendary musicians. We have performed with Nani Bregvadze, Riccardo Fogli, Francis Goya. In March 2018, we perform a number of concerts with the a three times Academy Award-winning French composer – Michel Legrand. In April we play the only Russian concert with legendary Uriah Heep frontman Ken Hensley